Original post can be found here:
By Dana Marlowe
What do sweet potatoes have to do with starting a business? Perhaps I learned one of my best lessons from my grandmother Ruth.
It's not a true Thanksgiving without her special mashed sweet potatoes with toasted marshmallows for me. My Grandma Ruth made it every single year, without fail. And it was quite polarizing. There were and are lovers (my cousins, my mom, me) and haters (my husband and stepfather, for instance). The lovers would fight over the marshmallow crispy topping. And the haters just left more for the sweet potato casserole aficionados.
After so much hustling to acquire the remainders, and many years of us scraping the dish, Grandma Ruth would make two batches: one for dinner and one for leftovers.
Sadly, my Gram is not here with us anymore, so my children never met her. However, through her cooking, she taught me at an early age to always have a contingency plan. Sure, have plenty when it's good, but just in case, you always want to have a back-up plan to rely on. In a small business, schedules can be so topsy-turvy that when it rains, it pours, but sometimes it can be slow for a while. Having that extra tray of sweet potatoes can sure come in handy. I always make sure I have a back-up plan, whether during a presentation or for corporate budgeting.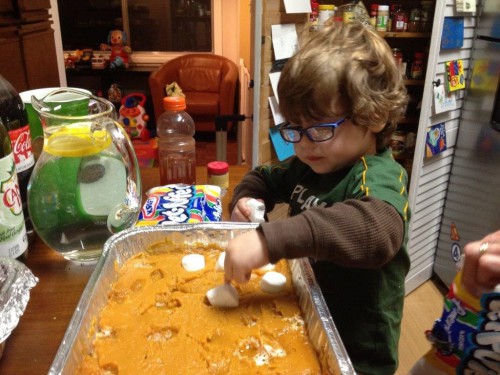 Sweet Potato Recipe
Shared by Accessibility Partners
Ingredients:
6 tall cans of Bruce's Yams in syrup, drained (or equivalent)
1 cup granulated white sugar
1 lb sweet butter, room temperature, cut into pats
2 bags regular size marshmallows (not the minis nor the giant ones)
Directions:
Little by little, blend in a Cuisinart, yams, sugar and butter. As you finish each batch, transfer the mixture into a large Tupperware container.
When it's all done, cover well and refrigerate until Thanksgiving Day.. (It's nice that this can be blended a day or two before the holiday.)
Remove from refrigerator early on Thursday and let it come to room temperature.
Two or three hours before eating, transfer the mixture, an inch at a time, into a deep well-buttered casserole.
In between the layers, push in marshmallows being sure to cover every spot.
When you get to the top layer, and you put in the last of the marshmallows, cover the casserole with aluminum foil.
Be sure to keep the foil up above the marshmallows (not touching them).
Put into a 350 oven for 35-40 minutes.
Remove the foil and bake for another 10 minutes or so until the top marshmallows are crispy brown.