Thanks for celebrating Women's History Month with us! Through the month of March, we are going to spotlight a few of the dynamic women who make up Accessibility Partners.
Anna Dresner
Written by Sharon Rosenblatt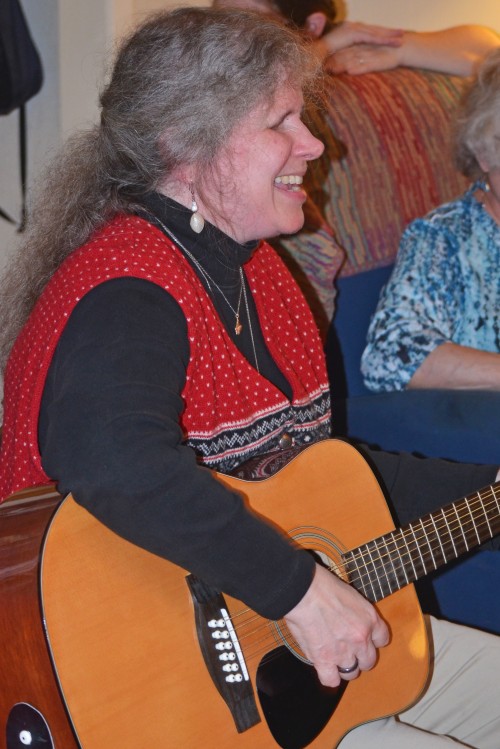 As one of the staff aboard Accessibility Partners, Anna Dresner is known for tenacity, patience, and problem-solving skills. She finds technology to be a useful tool, particularly for breaking down barriers caused by disability. Where did her skills come from? Anna recounts "messing around" on an Apple II computer with an Echo II speech synthesizer in high school. Her experimentations coincided with the release of the VersaBraille, the first commercially available notetaker with a refreshable braille display. Anna, a gifted and passionate writer, claims that she was "lucky" to be able to edit with the newest technology. Previous portable technology for writing Braille was a slate and stylus to punch out the words, which was slower and significantly less conducive to editing.
Studying writing at Knox College and Russian Studies at Harvard University, Anna hoped to get involved in peace work, but the Soviet Union fell apart. Time for a new plan. One of her first jobs was teaching music at a Kansas City alternative high school, and then teaching Braille and basic academics at a rehabilitation center in Kansas City called Blind Focus. After marrying in 1994 and spending a year in Japan, she briefly did tech support for Blazie Engineering (now part of Freedom Scientific) and their Braille note-taking devices.
Anna had a couple of other neat jobs afterward, including teaching computers at the Carroll Center for the Blind, and then writing for National Braille Press. This opportunity gave Anna the incredible chance to write and edit some unique books. She collaborated on Touch the Stars, an astronomy book for kids, wrote directions for crafting dream catchers, and put together a book about magic tricks. With the help of a magician, Anna developed instructions for doing the tricks that were designed to make sense to blind children.
Anna has authored a number of books for blind people on Apple products. She wrote a book on the iPod Shuffle when it first came out, and has released an iPhone book for every version of iOS, starting with iOS 4. Her most recent publication, Watching without Looking, is a journal in which she describes her experiences as she learned to use the trendy Apple Watch and provides tips for new users. The iOS 9 version of Getting Started with the iPhone may be out as soon as the end of March. Check out her full bibliography with National Braille Press. NBP calls her one of their "most popular – and prolific! – authors". It's not hard to see why.
I asked Anna two questions to conclude our conversation, even though we could have talked for hours. As a fellow writing enthusiast, I asked Anna what she likes to read when she's not writing. Turns out, she enjoys reading science fiction and fantasy primarily. Anna keeps abreast of the latest technology trends, but also throws in spirituality and science. She's a huge fan of audiobooks, and fondly recalled listening to them while completing chores when her son was small. For example, being able to listen to some of the 9/11 Commission hearings via Audible allowed her to stay informed in a way that she wouldn't have had time for otherwise. Her balanced worldview contributes to her writing prowess.
Given the fact that this is Women's History Month, I asked Anna to explain what this month meant to her, as a woman in a predominately under-represented field. Anna believes that women need more chances to work in technology fields. Minorities should have the same types of opportunities. She agrees that women need to be more visible in all job roles and functions, but also states, "I hope that at some point, we can get to a place where we will think of people's qualifications beyond gender. We can have a society where people can do what they are good at, and enjoy what they are doing".
And what does Anna enjoy doing at work? One of my favorite descriptions of her job at Accessibility Partners is also one of her favorite parts of being a tester with us. Regarding her role as a beta tester, Anna exclaims: "You're supposed to break it. Tell people there are problems, and they actually try to fix it! Better than so many other things in life".