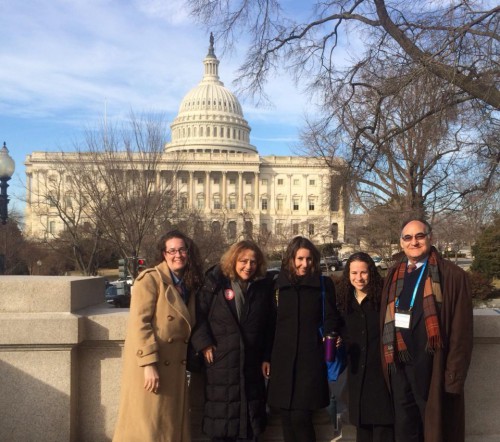 Accessibility Partners works with juxtaposing frameworks of disability and technological accessibility.  A common theme that unites them is legislation. Within our personal jurisdiction working within the realm of Section 508, the FCC's 21st Century Communications and Video Accessibility Act, the Americans with Disabilities Act, and other disability-related laws, our staff values the importance of championing laws that improve the lives of people with disabilities. When we were invited to advocate in the House of Representatives for two new disability laws with votes impending in the 113th Congress, it was Accessibility Partners Goes to Washington!
The well-attended event segued nicely with February being Jewish Disability Advocacy Month. Disability is an area that transcends religion, and despite everyone being varying backgrounds, the unifying thread of working towards a better future for people with disabilities served to inspire and invigorate us at this early morning event.
Our instruction on the ABLE Act was conducted by Allison Wohl, the Executive Director of the Collaboration to Promote Self-Determination (CPSD). The Achieving a Better Life Experience (ABLE) Act would allow for the creation of tax-free savings accounts for individuals with disabilities. With these funds created by families to provide for their children or other beneficiaries, the bill would ease undue financial strains by making tax-free savings available to cover qualified expenses such as education, housing, and transportation. The law would eliminate barriers to working by preventing dollars saved through ABLE accounts from counting against an individual's eligibility for federal benefits.
David Morrissey, the Executive Director of the U.S. International Council on Disabilities, spoke next. The USICD is a huge proponent of the Convention on the Rights of People with Disabilities (CRPD). The CRPD is a vital framework for creating legislation and policies around the world that embrace the rights and dignity of people with disabilities. Effective implementation of the CRPD abroad would provide increased accessibility and opportunity for American citizens that are traveling and working, including military veterans with disabilities.
Empowered by our new information, we left the conference room in groups to speak to members of Congress and impart our advocacy. Mindful of our elected official's busy schedules, we met with the offices of Rep. Charles Rangel, Rep. Nydia Velazquez, Rep Grace Meng, and Rep. Joseph Crowley. Conversing in the midst of so much democracy at work was an overwhelming experience. Yet, here we were: promoting disability advocacy to those who had the power to make it happen.
With an exchange of business cards and flyers, we received affirmatives that these Representatives would read into our literature and most likely vote yes when it hit the floor of Congress. It was apparent we struck a chord. Truthfully, with almost 1 in 5 people in America identifying as having a disability, it's a personal issue for everyone. Whatever the outcome of these two laws, getting the message out is crucial. Disability awareness now leads to upcoming action, and that is the real meaning of advocacy.