How often in December is the phrase uttered, "Do you want us to gift wrap that for you?" This is the season of more gift giving than any other time of the year. However, there are some considerations to make when gift giving with those who have disabilities that we've seen spread extra holiday cheer in the past. Here's a handy list of suggestions to factor in accessibility during this holiday season.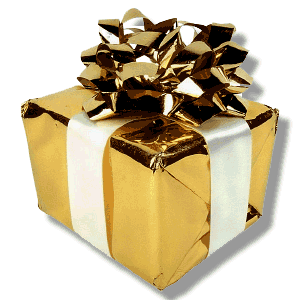 Let the recipient know the gift is on the way:
Too often, it's easy to get caught up in online shopping and just click to send gifts without warning the recipient they are on the way. For a person who is blind or low vision, an unsolicited package can be a source of confusion as they wonder what exactly has arrived from whom. There is no need to spoil the surprise, just let them know something is coming, roughly the size, and when to expect it.
Give accessible greetings:
A card is always a nice touch for a gift, but if your recipient has a print disability, it will be impossible to access the content. If you've let them know in advance a gift is on the way, a nice touch is to e-mail the message privately with a subject that tells them not to open this message until they receive the gift. The holiday spirit is maintained, and then they can access your sentiments.
Consider gift certificates or online presents:
If sending a tangible gift is impossible, online gift certificates make wonderful gifts, and they combine the stipulations above. It does take out some of the personal touch, but it can make for a more accessible experience with less physical objects. Don't forget to make sure that the vendor you're buying from has an accessible website. This means that the person with can comfortably access the website utilizing any assistive technology such as screen readers, magnifiers, Braille displays, and more that he or she might use.
Look into Braille and Large Print cards:
If you're giving to a person directly, there are many of artsy sites that produce Braille cards or those with Large Print messages. They are on a comparable cost with many other large holiday card vendors, but can add a special dimensions to the holiday season. There are also cards for other occasions, so this is always a good time to stock up for events beyond the holidays!