Well, that's a wrap! October was a delightfully active month of advocacy and events for National Disability Employment Awareness Month (NDEAM). Here's a little wrap up from our end at Accessibility Partners. To kick the month off, we wrote part one of a blog series in our A11Y Ally discussing what the month meant to us.  We were charged to focus on how disability is really just one part of a person and their identity.
We then were honored to work together with our friends at the Partnership on Employment & Accessible Technology (PEAT) to give a webinar on the merits of embrace a Bring Your Own Device (BYOD) policy for employees with disabilities. While perhaps not as exciting as a BYOB event, we gathered a huge crowd, and fielded some great questions from employers across a span of industries. If you missed out, or want an encore, you can watch the webinar or download the presentation.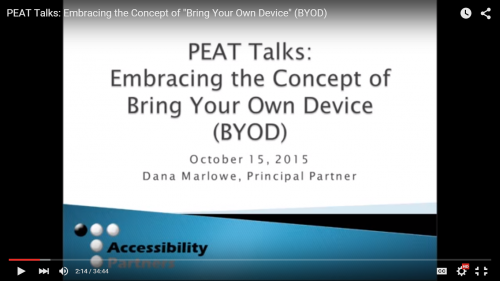 From webinar to in-person, Accessibility Partners was on the move to discuss accessible technology and employment of people with disabilities. On October 20, both Sharon and Dana were at the Department of Transportation for the Section 508 Interagency Accessibility Forum: Sharing Accessible Solutions for Everyone. The event was standing room only, and featured some amazing speakers, like Bill Peterson from the Department of Homeland Security, Adrienne Biddings from Google, Deborah Kaplan the Section 508 Coordinator from the Department of Health and Human Services, and many more. We were excited to meet 508 coordinators, accessibility professionals, fellow exhibitors, and countless others as we swapped business cards and ideas for the future.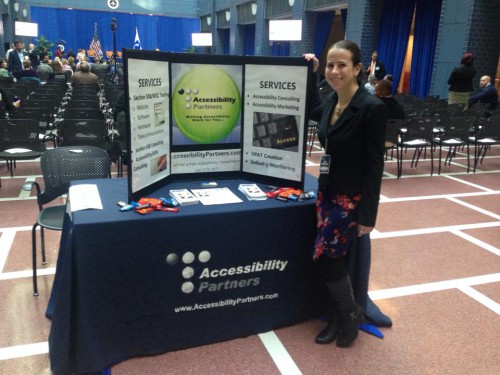 Accessibility Partners closed the month with a few more blogs. We went into more detail regarding BYOD policies and implementing them in workplaces across the country for PEAT. We shared tips and tricks to hit the ground running to develop a winning BYOD structure. In a follow-up to our first A11Y Ally blog at the start of October, we interviewed our own employee Sharon, and how she feels about being a member of the team with a disability. Sharon went into detail about how accommodations and open communication are key for her to be a productive employee. In a separate article for Usablenet, we shared some of our favorite tools to check for web accessibility.
As we come up for crisp autumn air, it's lovely to see how much attention NDEAM has, and the emphasis on employees with disabilities. Still, as we flip our calendars in the coming days to November, this month of activity does not need to end. Disability employment requires focus and commitment all year round. Let's make 2016 a banner year for employment of people with disabilities across all industries. Keep the momentum going and cruise into winter warmed with ideas for the future.