Social Media Best Practices from Accessibility Partners
In a day and age where news and interpersonal communication travels quickly in just a tweet or a post, it's imperative the it can reach the maximum number of users. Nobody wants to intentionally leave anyone out!
While social media tends to be very visual with sharing of pictures and videos, there are still some tips that can lead to more accessible distribution. Having a more accessible and inclusive social media experience can lead to increased followers from people with disabilities as well knowing that your online presence is truly welcoming.
Below, please find some of our best practices and suggestions to increase the accessibility of your social media.
Facebook:
As a missio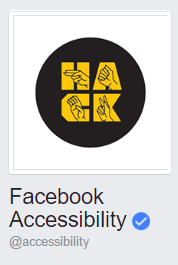 n, "Facebook is committed to creating a great experience for all people". They are constantly rolling out new built-in features and technologies that help people with disabilities get the most out of Facebook, and engage with this social media.
Facebook has worked with the American Foundation for the Blind (AFB) to make the social network more accessible to those with visual disabilities, and they have an Accessibility officer. Still, it is a work in progress. On a largely visual and dynamic platform, Facebook still faces some areas of inaccessibility. Workarounds for businesses and individuals include:
Have a few options, by ensuring your website address is listed in the "About" section of your Timeline/Page. This can allow a user to bypass Facebook and go to your own website.
Related, be sure to include other ways to contact your organization, such as your phone number or a dedicated contact email address for more information.

Facebook has a ton of multimedia! Here's our suggestions for pictures, videos, and beyond!

Provide a caption for the photo you post. This is like alternative text, a textual equivalent for a non-textual item not read by assistive technology.
When uploading a single photo or a bunch in an album, type a caption in the text field that will be used as a caption for the photo, in the description field.
Are you hosting something? If the content is on your website, you can provide a link back to the webpage that hosts a copy of the photo, video, or audio with full caption/transcript.
Consider this: After posting the picture or video, immediately post a comment that directs users to the alternative text in your caption or the full transcript.
Have a lot of updates to your status? Be mindful of introducing new acronyms, but as always, know your user. Most users speak social media, but if it's specific to your industry, spell it out.
Have a video? See the YouTube tips below.
Mobile Facebook? Some users find it more accessible in terms of layout and code. Test internally to see how both version look, especially by using users with disabilities.
YouTube
If you have a YouTube channel, upload your video to your channel and make sure you enable closed-captions unless your video already has them.
If you do have captions, double check their accuracy, and ensure they are synchronized with the visual content timing.
Consider uploading or linking to a transcript if you use YouTube's automatic captioning feature.
If you're sharing on Facebook, post a link to your more accessible YouTube video as your status update, rather than uploading the video into Facebook.
Look into audio description as well, which describes additional narration about the video.
Twitter
Twitter has become more accessible lately, on iOS, Android, and desktop computer
Enable image descriptions by going through your app's settings to Accessibility
Add Image Descriptions by checking the "compose Image Descriptions"
Other Social Media Best Practices
Have transcripts for podcasts or long audio clips
Look up keyboard shortcuts for your platforms (Twitter has a bunch!)
For blogs and other hosted content, ensure you have properly tagged section headers with accessible images, links, and other content
If you link to documents, like PDFs, have them checked for accessible tags and structure
Invite guest testers and contributors with disabilities to look at your website/social media
Resources:
GSA Social Media Handbook: https://www.gsa.gov/graphics/staffoffices/socialmediahandbook.pdf
Facebook Accessibility:
https://www.facebook.com/accessibility/
Twitter and Accessible Images:
https://blog.twitter.com/2013/improving-accessibility-of-twittercom
YouTube and Screen Readers:
https://support.google.com/youtube/answer/189278?hl=en
Social Media and Accessibility from Queen's University:
http://www.queensu.ca/accessibility/how-info/social-media-accessibility
Federal Social Media Accessibility Toolkit Hackpad:
https://www.digitalgov.gov/resources/federal-social-media-accessibility-toolkit-hackpad/
TechRepublic Opinion Article on Social Media Accessibility:
http://www.techrepublic.com/article/social-media-and-tech-sites-must-be-accessible-to-everyone/