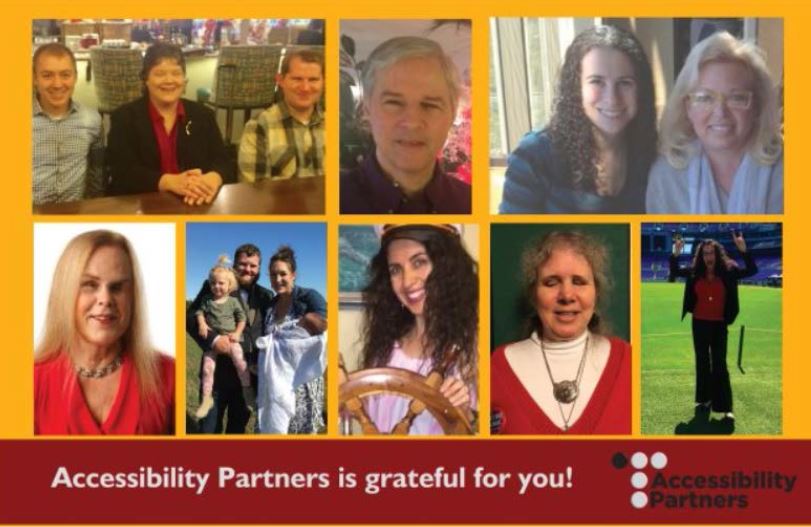 With updates to Section 508 and the Web Content Accessibility Guidelines (WCAG) paired with a tremendous uptick in attention on web accessibility, it has been a delightfully busy year for Accessibility Partners. Working with our clients, we've latest and greatest tech solutions for compliance to accessibility standards. Together, we've partnered to help increase technology usage to people with disabilities. But after the deliverables are submitted, we took our message outside the audit reports.
Accessibility Partners humbly accept awards for our efforts to increase employment of people with disabilities as well as promoting accessible technology as a social good. We were named a top Mid-Atlantic Innovator & Entrepreneur Award from CEO Report Magazine, a Partner in Justice for Sparking Social Change from Avodah, and our very own principal partner, Dana Marlowe, won the Dr. Tererai Trent Award for empowerment of women from the National Association of Women Business Owners (NAWBO).
We've spread the message about disability inclusion, accessibility, technology design, mental health, and employment, among other topics in a number of publications, including the Huffington Post, Speech Technology Magazine, Fem Founder, Convene Magazine, Software Pundit, and more.
Are you following us on social media? Check out the latest Accessibility Partners news on Facebook and Twitter.
Or maybe you caught up with us in person. We traveled across the United States and presented at the premier CSUN Assistive Technology Conference, the U.S. State Department, the JWI Women's Summit, the Knowledge and Society Research Network Conference, and the Rochester Institute of Technology. Our topics spanned from accessible design, mindfulness in technology, online dating, and women's business leadership, all centralized along the theme of empowering people with disabilities.
While we are happy to share our news with you, we look forward to hearing what's new with you! Whether it's your first engagement or thirty-first with us, we are here for you every step of the way. Please share any apps, websites, software, documents, hardware products, and more that you may have introduced. We audit products from all sizes, spanning from Baby Shark to Mama Shark to Grandpa Shark. We'd be thrilled to collaborate on how to increase their accessibility and maximize your resources in the process.
Whether it's Yanny or Laurel, we're all hearing the same message of championing inclusive technology.
Happy Holidays, and best wishes for an inclusive 2019.
Warm wishes,
The Accessibility Partners team